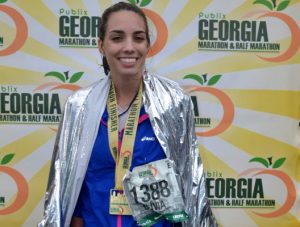 "Incredibly knowledgeable about his specialty."
In the summer after my first collegiate cross-country track seasons, I was hit by a car while I was on a training run. Thankfully, my only major injury was a compound (open) fracture of my tibia and fibia – as it could have been much worse! However, the worst part of my injury was that it prevented me from doing the thing I loved most, running competitively.
I was immediately rushed to the nearest hospital and a steel rod and screws were inserted into my bone to heal the fracture. At my follow-up appointment, the doctor informed me that my bone was not going to heal and that I would probably need a bone graft. At the age of 19, the words "bone graft" were very scary.
My parents and I sought out numerous second opinions, and they all said the same thing; a bone graft would be the only way it would heal. Thankfully, we found Dr. Helfet at Hospital for Special Surgery. Upon first meeting Dr. Helfet, I felt immediately at ease. He was confident, personable, and incredibly knowledgeable about his specialty, orthopedic trauma. I trusted him immediately. He performed a more innovative operation that allowed my bone to heal properly without a bone graft.
Unfortunately, my story does not end there. About nine months after the accident, the doctors realized I had also torn my anterior tibialis tendon. This tendon is attached to the anterior tibialis muscle, which is the main muscle in the leg that allows you to flex your foot. I was unable to fully flex my foot (sometimes referred to as "foot drop"), which meant running was physically impossible. I was referred to Dr. David Levine, the trauma foot and ankle specialist.
Dr. Levine impressed me as much as Dr. Helfet. He listened to me and understood that running was very important to me and reassured me he would do everything in his power to help me reach my goals. He was also very honest with me about the risks involved, and I was very grateful for that too. He performed a tendon transfer in my foot to connect the anterior tibialis muscle to a different tendon in my foot.
Thankfully, the surgery was a success! Although the recovery was slow, I was able to run again after about three years from the original date of my accident. Recently I finished my first marathon! It feels like a miracle that I am able to run again (especially 26.2 miles!). I will be forever grateful to these amazing doctors. Thank you to Drs. Helfet and Levine, the nurses and staff at HSS for helping me get back in the game! I couldn't have done it you!
Olivia D'Angelo
Tampa, FL