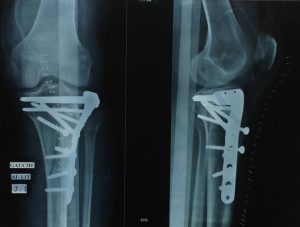 "Expertise and care beyond imagination."
Accidents can be a blessing if all we go through is mostly fear, spared from pain and long-term physical damages; and surely, for those of us who required orthopedic surgery, how blessed have we been to receive our medical care at HSS! The level of expertise and care is beyond imagination.
Entering the surgery block is like entering a Sci-Fi movie and actually a truly enjoyable experience. The nurse in the recovery room was the best ever. I subsequently saw countless doctors, fellows, and nurses during my stay as I needed to be closely monitored.
Best of all, Dr. Helfet is an artist. This was my second knee/tibial plateau surgery, and while it was not the purpose of it, I was even surprised to see how greatly Dr. Helfet revised my original scar. Full recovery was seamless and very fast. How privileged are we to have access to the best orthopedic hospital in the world! May we never need orthopedic surgery again but if we have to, may it be there!
Herve Duteil
New York, NY