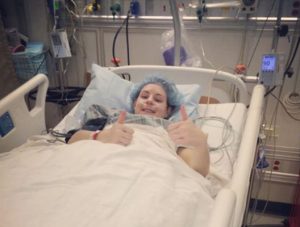 "Thank you from the bottom of my heart."
My story is a bit different than most regular surgical stories out there, but one thing is for certain: I made the best decision of my life by going to HSS. The moment my family and I walked in there we knew that the doctors and nurses were going to do everything possible to help change my life.
I was born with a condition called Hip Dysplasia, and anteversion as well as patella dislocation and a few other long medical terms that most won't understand so to shorten it up, my left leg was causing me extreme pain in both the hip and knee area due to the fact that my hip bone was incorrectly rotated causing my entire bone structure to twist inward leading to muscle tears, bone deterioration and patella dislocations as well as other painful issues.
I spent several years traveling around the United states hearing from one doctor to another that there was nothing they could do for this condition until I reached HSS and came in contact with Dr. Kelly who showed us that there was a light at the end of the tunnel. In 2010 I underwent my first hip surgery to take care of a labral tear as well as a bone spur. I instantly noticed pain relief, but we all knew it was only temporary, so Dr. Kelly brought on a team of doctors to review my case and decide what the best treatment would be which is when I met Dr. Buly who would change my life as we knew it forever!
Dr. Buly read over all my scans and x-rays and approached my family with a surgical plan that he felt 100% confident with. That surgery was called Periacetabular Osteotomy Femoral osteotomy (Derotational) in which with the help from Dr. Helfet, he was going to break my femoral bone and hip bone changing the actual structure and placing a metal rod into my femur and a bunch of screws to hold my hip and femur in place.
I remember feeling my heart stop when I heard what was going to happen but I knew he was the best of the best and even though this is one of the rarest surgeries out there I was in good hands, so the date was scheduled. I underwent my second operation on Feb. 5th 2014 and about 9 hours later I woke up to Dr. Buly holding my hand telling me everything had gone great and I knew than I had a better life ahead of me.
My recovery was extremely hard and took a very long time but every minute of it was worth it. I had to relearn how to walk and all, but i remember the moment I saw my leg, I cried and not because of the incisions and pain but because for the first time my leg looked "normal" and there was the possibility for the first time to live a full and adventurous life that I had always dreamed of.
I did have to undergo 6 months out a third surgery to remove all the hardware due to the fact my body was rejecting it but Dr. Buly had warned me that could happen but after a few more hours I was awake and ready to get back to PT. I am now one year from when I first started this long surgery recovery with Buly and I can tell you that if I was asked if I would ever do it again I would 100% say yes. Even through all the hard times and the pain it was completely worth it!
Dr.Buly and the HSS nurses have forever changed my life and I could never thank them enough. He has given me my life back and the chance to do everything and anything I want to that never was possible before. I am 23 years young and ready to conquer whatever life throws at me!!! I used to always say I wish but I can't because of my leg but now if someone asks me do you want to go to the gym or any other activity I can say yes for the first time and it feels amazing.
I will always hold Dr. Buly and all the other team members dear to my heart for giving me the life I never thought would be possible, so thank you from the bottom of my heart Dr. Buly and HSS staff! So if you are in need of any type of surgery I would not think twice about going to HSS, I can promise you that you will not be disappointed.
Devon Reynolds
Berwyn, PA