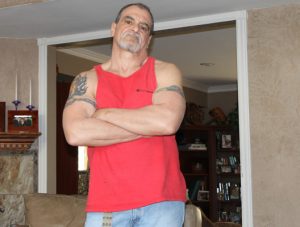 "You changed my life."
July 4, 1990 on a nice sunny day is when I took a ride on my nephew's motorcycle and was cut off and ran into a fire hydrant about 50 MPH. My right leg took the impact and there were multiple compound fractures of my femur, tibia, fibular and I serrated my femoral artery. I was rushed to RWJ hospital in NJ where I almost died from blood loss.
Luckily, there was a fantastic surgeon on call that day and my leg was put back together and in a few years it was time to look further for other solutions for my chronic pain and discomfort which brought me to HSS. I first met with the hospital's trauma head Dr. David Helfet who treated me for various infections through a few years.
I was then referred to Dr. Robert Buly for a consultation regarding a total knee replacement to eliminate the chronic pain in my knee, whatever was left of it. Dr. Buly is a wonderful person as well as a excellent surgeon that tried various time to install a new knee and patella without success due to chronic bone infection. After the third attempt, my knee needed to be removed and that left my right leg approximately 6″ short of a normal length. I was then referred to Dr. S. Rozbruch for a consultation for the possibility of a leg lengthening procedure.
I met with Dr. Rozbruch who also was a fantastic person as well as a excellent surgeon along with his PA Dustin Quig, who is another wonderful person. Dr. Rozbruch said I was a candidate for the leg lengthening procedure and the process was started. I was very depressed at this point of my 18 year journey through pain and disappointment.
This finally this was a hope to live a kind of normal life again without need of orthopedic shoes or any other devices to make my life easier. Well after a year and a half of fusion and lengthening a total of 5 1/2″ was achieved on my damaged leg. I was finally pain free and after the external fixator was removed and the leg healed I was ready to continue my life.
Three years have gone by and besides having a fused right leg, life is good. My wife and I traveled to Amsterdam, Germany and France last year and just returned from a 16 day trip to Spain and Portugal.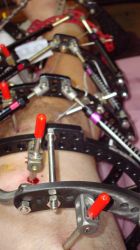 If it wasn't for the talented surgeons at HSS and their wonderful staff this would not have been possible. After 21 years of pain and over 40 surgeries, I can live a normal life and enjoy life once again. Thanks to Dr. Helfet, Dr. Buly and Dr. Rozbruch. You changed my life.
Ron Pollicino
Old Bridge, NJ
Tags: Broken Femur, Broken Kneecap, Broken Leg, David Helfet MD